Australian Kelpie Muster - 2018
Kelpie Festival and Auction .
Wow!
What a weekend. Our best yet!
2018 Auction results  available here
KELPIE FESTIVAL – EVENT RESULTS FOR 2018
Stockmen's Challenge –
1st Darren Holmberg
2nd Sharon Barry
3rd Travis Scott
Kelpie Dash –
1st Rob Burnett (Sunny) 4.91 sec
2nd Michelle Whyte (Bootz) 5.06 sec
3rd Matt Haines (Finn) 5.09 sec
Kelpie High Jump
Equal 1st Emily McMahon (Will) & Tristian Mioni (Cork) - 2.68 metres
Runners Up – Travis Carroll (Kevin), Zack Carroll (Wilbur) & Aaron Tansey (Cobba) – 2.38 metres
Local Winner – Murray Davis (Cooper) 2.25 metres
Kelpie Hill Climb
1st Courtney Marshall (Heidi) 29.1 sec
2nd Tegan Eagle (Cooper) 29.47 sec
3rd Fran Lennox (Thommy) 29.5 sec
Kelpie Triathlon
1st Tristan Mioni (Cork)
2nd Courtney Marshall (Heidi)
3rd Fran Lennox (Thommy)
Kelpie Street Parade
Casterton 1st Scouts
Casterton Playgroup
Casterton Friendship Force
Kelpie Pinball
1st David Walsh (Lacey) 6 points
2nd Peri Chapel (Gem) 3 points
 Score Sheets available here 
Triathlon
Hill Climb
Dash
High Jump
---
The 2017 - Casterton Kelpie Muster was held on 10th & 11th June
What a wonderful weekend was had by all.
Results of the Kelpie Auction now available here.
Results of the Kelpie Festival now available here.
In the News
Hamilton Spectator on 13 June 2017
>> View Article
Stock and Land on 15 June 2017
>> View Article
LOT 48: GLENCAIRN SEVEN sold by Christian Peacock from Waterloo, set a new record at the 2018 Casterton Working Dog Auction selling for a record price of $22,200.00 to a buyer from Hamilton in Victoria.
2017 Casterton Kelpie Auction
2 Million Dollar Dog - Whitey
Left John Mathews, handler Damian Clifford, dog's owner and family, Karen Stephens. The dog was sold to GJ & KM Trahar Yahl, SA for $5250
Cutting of the 20th Anniversary Cake -
(L-R) Ian O'Connell, Heather Gill, Owen Stephens, Ken Bibby (the first Auctioneer), John Matthews, Nicky Holmberg, Darren Holmberg. All were apex members at the first Auction. Photo by Kelly Edwards. 
Bailey and his record breaking jump with his handler, Teagan Eagle. Photo by Karla Northcott.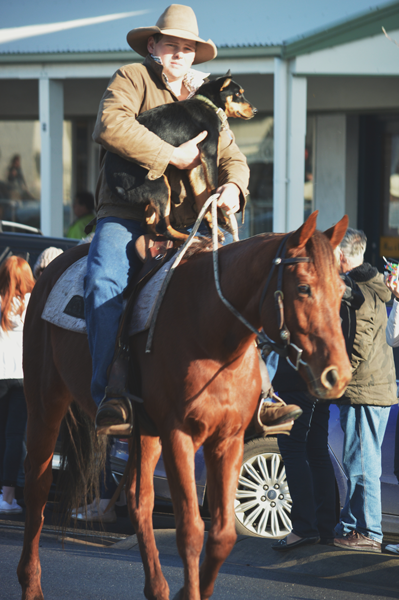 Street Parade 2016. A member of the Carlin family has always led the street parade at the Festival, depicting the legend of Kelpie and Jack Gleeson. Photo by Faith Glisson.
2016 Highest Priced Working Dog -
from left Karen Stephens (CKA President), Molly, Toni & Rob Buckley (Buyers), Kelpie - Burge, Andrew Kennedy (Vendor), Chris Malcolm - Clark Rubber and Clarkee.