Australian Kelpie Muster




Kelpie Festival - Saturday 9th June 2018.
Working Dog Auction  - Sunday 10th June 2018
KELPIE FESTIVAL EVENTS
Register now for
Kelpie Triathlon, Kelpie High Jump, Kelpie Dash and Kelpie Hill Climb
KELPIE KIDS ZONE has Jumping Castle, Animal Zoo and Parents Room
LOADS OF MARKET STALLS AVAILABLE
FREE ENTRY
AUSTRALIAN PREMIER WORKING DOG AUCTION
Sunday 10th June at Island Park, Casterton
Working Dog demonstrations commence at 9.30am
Working Dog Auction at 3pm
Entries  Now  closed. All enquiries to Nicky on 0438 052 394
auction@castertonkelpieassociation.com.au
(only auctions dogs allowed on site – secured facility for other dogs available on the day)
Buyer registrations are taken on the day, payment by cash or Eftpos (no cheques).  You may also book your purchase down to your stock agents account, but to do this you must bring with you (or send to the WDA Secretary prior to the day) a letter of introduction.
For details 2018 Working Dog Auction see The Auction page and to download pre sale catalogue
For further information email: secretary


The 2017 - Casterton Kelpie Muster was held on 10th & 11th June
What a wonderful weekend was had by all.
Results of the Kelpie Auction now available here.
Results of the Kelpie Festival now available here.
In the News
Hamilton Spectator on 13 June 2017
>> View Article
Stock and Land on 15 June 2017
>> View Article
The 2017 top price dog, Dotti (pictured with owner Jack Leonard) equalled the record price, $12,000. 
2017 Casterton Kelpie Auction
2 Million Dollar Dog - Whitey
Left John Mathews, handler Damian Clifford, dog's owner and family, Karen Stephens. The dog was sold to GJ & KM Trahar Yahl, SA for $5250
Cutting of the 20th Anniversary Cake -
(L-R) Ian O'Connell, Heather Gill, Owen Stephens, Ken Bibby (the first Auctioneer), John Matthews, Nicky Holmberg, Darren Holmberg. All were apex members at the first Auction. Photo by Kelly Edwards. 
Bailey and his record breaking jump with his handler, Teagan Eagle. Photo by Karla Northcott.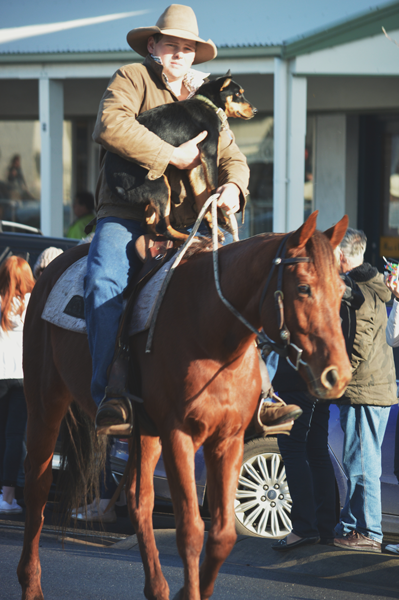 Street Parade 2016. A member of the Carlin family has always led the street parade at the Festival, depicting the legend of Kelpie and Jack Gleeson. Photo by Faith Glisson.
2016 Highest Priced Working Dog -
from left Karen Stephens (CKA President), Molly, Toni & Rob Buckley (Buyers), Kelpie - Burge, Andrew Kennedy (Vendor), Chris Malcolm - Clark Rubber and Clarkee.