We are now preparing for another Big Weekend on the Saturday 9th & Sunday 10th of June - 2018.
More details soon!
For Advance 2018 Entry Details Click here


The 2017 - Casterton Kelpie Muster was held on 10th & 11th June
What a wonderful weekend was had by all.
Results of the Kelpie Auction now available here.
Results of the Kelpie Festival now available here.
In the News
Hamilton Spectator on 13 June 2017
>> View Article
Stock and Land on 15 June 2017
>> View Article
The 2017 top price dog, Dotti (pictured with owner Jack Leonard) equalled the record price, $12,000. 
2017 Casterton Kelpie Auction
Read about last years events below:-
The Clark Rubber Australian Kelpie Muster 2016
Was another "Huge Success!
(Held on the 11th and 12 June 2016)
2016 Roundup of another successful Casterton Kelpie Association - Clark Rubber Australian Kelpie Muster
The Casterton Kelpie Association again hosted another successful Clark Rubber Australian Kelpie Muster with the crowd bringing over 12,000 people to the township along with the canine friends.
The Casterton Kelpie Association president Karen Stephens said "This muster we are celebrating 20 years since it all started and a lot of work has gone into the celebrations. I am and the whole committee are very happy with the way the weekend went. Visitors again came from all over Australia and Overseas even all the way from Norway. We have over 300 volunteers who make this Muster happen over the weekend and during the year. Our sponsors are fantastic and we thank them for their commitment to our event. The World Record for the Kelpie High Jump was broke with a height of 2.951 by Tegan Eagle from Croydon, Victoria with her dog Bailey. This record has been standing since 2007. It was a great event to watch."
Thursday we commenced with the Acquisitive Art Competition and this was won by Julia Davis and her artwork titled "Rusty – Retirement is not an option". This winner was presented by the Hon Dan Tehan and the art show was supported by the Glenelg Shire Council.
On the Saturday, the Kelpie Dash which was won by Tegan Eagle and dog Bailey, the Kelpie Hill Climb was won by Tristan Mioni with his dog Cork. Overall Triathlon winner was Tegan Eagle again with Bailey.
The Stockman's Challenge was hotly contested and won by Robert Copping with his horse Cop That Red Rogue with dog Commander Zac and they also won the highest scoring dog work, highest scoring horse work was Travis Scott and his horse Max.
The RMA Network Futurity was again another successful event which was won by Travis Ware and his dog Hilton Park Bear, 2nd Monte Warren and dog Steph and 3rd place was Tricia Carter with dog Diesel.
The Kelpie Pinball was won by Joe Spicer and his dog named Package. This event always draws a crowd. Mutton Mayhem was won by Tim Lawrence. Novelties events were hilarious and loads of fun for all.
The Photo Competition had numerous quality entries and it was a hard decision for the judges for each category.
The street parade again was successful and the number of floats was outstanding with first place going to Casterton Playgroup, 2nd REaD Float and 3rd place Sacred Heart Primary School who also won the Clark Rubber colouring in school competition of $500 with the Casterton Secondary College and Casterton Primary School also both receiving $200 each as commendation.
This year we showcased our 20th Annual Working Dog Auction, which is proudly sponsored by Clark Rubber in conjunction with the RMA Network.  The highest priced dog Burge a 17mth Black and Tan Kelpie was sold for $10,000 by Andrew Kennedy to Rob and Toni Buckley of Trafalgar. Rob said "they watched this dog demonstrate and he was the won. He was coming home with them and would have paid more if need be. He displayed excellent skills and after talking to Andrew, knew he was the one for them."
This year we passed the $2 million mark with the a male Red and Tan 26 month old Kelpie named Whitey  was sold by John Ahern to GJ KM Trahar from Yahl, South Australia.
The auction offered 61 dogs with a clearance rate of 83.6% - average price $3,763 and with an overall turnover of $191,900 for breeders.
All results are posted on our festival tab.
Media enquiries to Karen Stephens 0417 527 200 or email secretary@castertonkelpieassociation.com.au
2016 Highest Priced Working Dog -
from left Karen Stephens (CKA President), Molly, Toni & Rob Buckley (Buyers), Kelpie - Burge, Andrew Kennedy (Vendor), Chris Malcolm - Clark Rubber and Clarkee.
2 Million Dollar Dog - Whitey
Left John Mathews, handler Damian Clifford, dog's owner and family, Karen Stephens. The dog was sold to GJ & KM Trahar Yahl, SA for $5250
Cutting of the 20th Anniversary Cake -
(L-R) Ian O'Connell, Heather Gill, Owen Stephens, Ken Bibby (the first Auctioneer), John Matthews, Nicky Holmberg, Darren Holmberg. All were apex members at the first Auction. Photo by Kelly Edwards.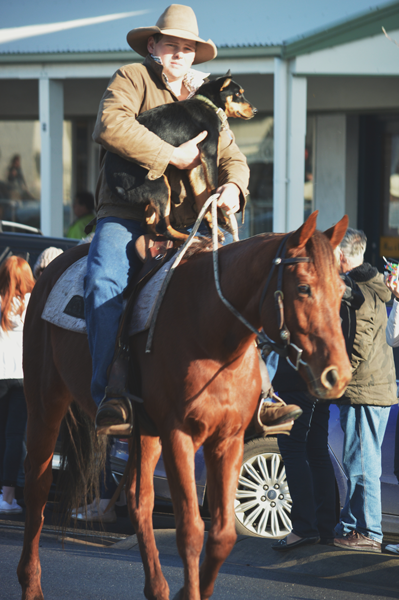 Street Parade 2016. A member of the Carlin family has always led the street parade at the Festival, depicting the legend of Kelpie and Jack Gleeson. Photo by Faith Glisson.
Bailey and his record breaking jump with his handler, Teagan Eagle. Photo by Karla Northcott.

Round Up of the 2015 Festival
The Festival had record entries for the Kelpie Events and it was non stop Kelpie competing.
The results for the Kelpie Triathlon was Ian Roberts from Grassdae and dog Nudge, 2nd Matt Haines from Bena with dog Finn and 3rd Luke Geddes from Glenmore with dog Ozzie.
Kelpie High Jump was won by Tegan Eagle with her dog Bailey, 2nd Jarrod Quick and his dog Moe, Equal 3rd Ian Roberts with his dog Nudge and Gary Stacy and his dog Clancy.
Kelpie Hill Climb was won by Jodie Dowling with River, 2nd Luke Geddes with Dog Ozzie, 3rd Ian Roberts with his dog Nudge.
Kelpie Dash was won by Sally Henderson and Jett, 2nd Jodie Dowling with Malee, Kim Murrie with Doza.
Kelpie Country Street Parade was won by Casterton Hospital, 2nd Casterton Playgroup and 3rd Casterton Garden Club.
Kelpie Pinball was won by Luke Ball who has been second many times in this event, so was very jubilant that he won.
RMA Working Dog Futurity was won by NSW Breeder Andrew Kennedy who returned with the dog he bred and sold for $9000 in 2013 to Peter and Beth Sandral, AKennedys Choker to win with 242 points, with Livestock Contractor Travis Scott and Chevy with 225 points and 3rd was Monte Warren and Steph with 132 points.
Stockman's Challenge was hotly contested and won by two time winner of campdrafting's Melbourne Cup - the Warwick Cup by Michael Hiscock.
Novelty events were a lot of laughs and heaps of fun. Fattest Dog was won by David Edgecombe and dog Peg, Best 6 Legs was won by Tony Hoyer and dog Bailey, Dog Most Likes It's Owner was won by Lindsay Gordon and dog Moses, Egg and Spoon Kelpie Race was won by Ben Armstrong and dog Koda, 11 Legged Race was won by Daniel Ball and Bronte Monahan with dogs benny and Wispa, Kelpie Idol was won by Lee Anderson and dog Slider.